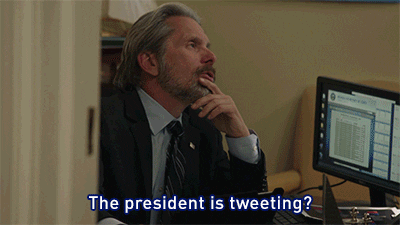 This is from HBO's
Veep
, in which two members of the White House staff are running to stop president Selina Meyer from Tweeting. From the fifth season, this episode originally aired on May 8, 2016... what a foretelling of the times.
The show's hilarious satire of politics has become much too realistic (an aspect lead actress Julia Louis-Dreyfus has personally commented on as well) as I re-watched it over the last few days. It's extremely interesting to watch in the current political atmosphere. I am highly interested in
Veep
's next season, which is being filmed now.
For those interested, this is also streaming on Amazon Prime. I
highly
recommend it!